6. Part, part, whole
This week we are learning about splitting numbers into parts.
We began by watching the Numberblocks episode - 'The Whole of Me'...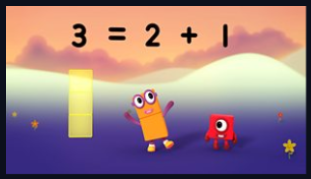 https://www.bbc.co.uk/iplayer/episode/b08dr1l3/numberblocks-series-1-the-whole-of-me
We discussed how the Numberblocks 'split up' into smaller Numberblocks.
We used cubes to split up the numbers and put them back together again.
We used the sentence ... "If the whole is 3, then 2 is a part and 1 is a part. 1 and 2 make 3."