FREE Resource - RealPE home learning
In school, we use RealPE as the core of our PE curriculum. During this difficult time for everyone, keeping active is essential both for our children's and our own physical and mental health.
Create Development have provided a calendar of activities, and related videos for parents to use at home. You can either follow the suggested calendar ideas or pick out your favourite. The core Real PE scheme develops fundamental skills such as agility, balance and coordination, essential in every kind of sporting activity. It also gives you access to RealGym to develop gymnastic skills and RealPlay and RealFoundation with games and stories for your children to play with the family.
Use these fantastic resources to develop your children's skills in line with the school curriculum and to keep them active at home with lots of fun activities. Don't forget to take photos or videos and send them in so that we can share them on our website.
Please also look below for more detail about the resource and Competition Time!
These are the details you will need to login for free.
The website address is: home.jasmineactive.com
Parent email: parent@almondsbur-1.com
Password: almondsbur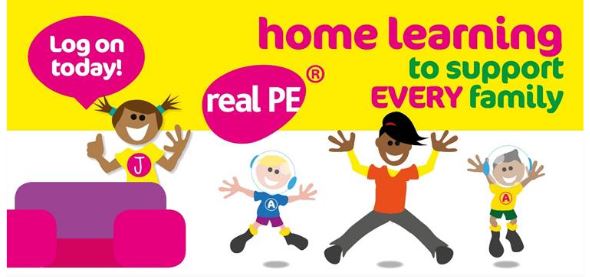 real PE at home – online learning resources
real PE at home includes an online programme which supports families to be active, play and learn together. It includes a programme specifically for children in Early Years and Key Stage 1 with 12 themes, 6 areas, over 250 activities and challenges and 1000s of hours of fun and activity. This programme is also great for family play and fun.
It also includes a programme for children in Key Stage 2, with daily and weekly guidance provided for both programmes in addition to an option to choose you
f us. We hope that the ideas help support you and your family to stay fit and healthy in the coming months. Here are the details to access real PE at home:
The website address is: home.jasmineactive.com
Parent email: parent@almondsbur-1.com
Password: almondsbur
They are also setting a competition challenge for you to enter each week so lets see what you can win!
Check out their website each week and post your photo or video.
Competition Time
Post a photograph or video (60 seconds max) showing how you've developed your personal skills in the Mirror Challenge or Counter Balance game. Perhaps you remained positive and persevered when you found something challenging?
Please state your first name (or initial if you prefer), year group and county on your post.
This competition is taking place across our social media pages. Follow us for more details and please remember to tag us:
Don't forget to use the hashtags #realPEathome and #homelearning.
Closing date: Thursday 23rd April 2020
The 3 winners will be chosen by a guest school and notified on Friday 24th April 2020.
1st prize: real play Home Pack
2nd prize: Physical Activity Board Game
3rd prize: Set of 12 Active Story Books