Miss Wingett's Class

A very warm welcome to our new Reception children and their families. We are looking forward to getting to know you!
At Almondsbury Primary School we have 2 Reception classes:
Reception 1
Miss Wingett (Class Teacher & EYFS Leader)
Reception 2
Mrs North (Class Teacher)
We have Teaching Assistants who work with the children across Reception...
Mrs Jones (Teaching Assistant)
Mrs Hill (Teaching Assistant)
Mrs Vicary (Speech & Language Teaching Assistant)
What to bring to school...
Every day you will need your bookbag (including your reading, maths and phonics folders), a water bottle (just water, no squash or juice please) and a coat.
Monday - Muddy Monday (wear Muddy Monday clothes to school - jumper, t-shirt, jogging/tracksuit bottoms, trainers. The children will change into their wellies in school, before the Muddy Monday session begins)
Tuesday - PE (wear PE kit and trainers to school)
Thursday - PE (wear PE kit and trainers to school)
Friday - Library Adventure (please bring your library book in your bookbag)
Learning in Reception
In Reception, the children learn through play. The delivery of the curriculum is devised around the interests of the children, with common themes and threads running through the year, to provide them with a wide range of experiences and learning opportunities.
The learning that takes place in Reception, provides the children with the basic foundations of learning and lifelong thirst for knowledge, understanding and the development of skills.
The children help to devise and extend their own learning experiences with the assistance of the adults around them. Specific tasks, such as the teaching of phonics, reading, writing and mathematics takes place on a daily basis through hands-on, engaging sessions.
At Almondsbury Primary School, learning in Reception is divided into 4 pathways...
'This is Me', 'My World', 'The World Around Me' and 'The World Beyond'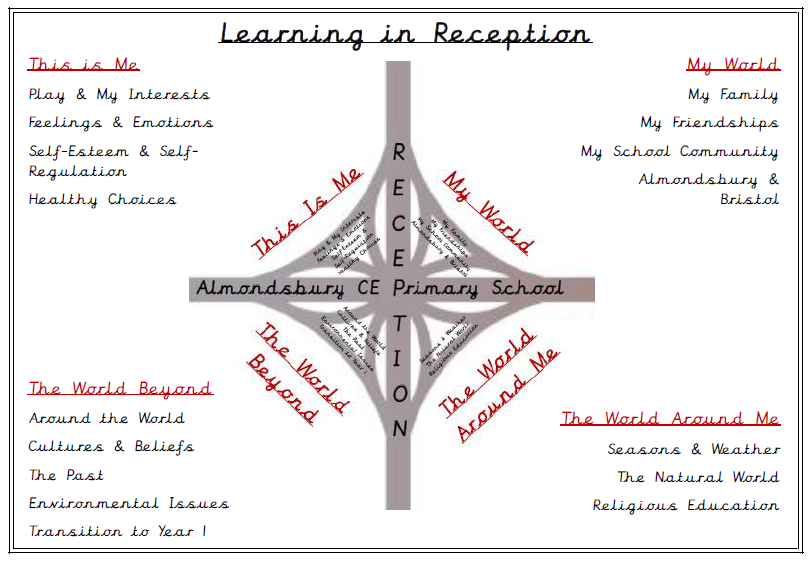 Phased Intake Information
Monday 6 & Tuesday 7 September - Home Visits
Wednesday 8 September - Teddy Bear's Picnic
(Group A & B - 10.00 - 11.30) (Group C & D - 1.45 - 3.15)
Thursday 9 September - All children start half days
(Group A & B - 9.00 - 11.30) (Group C & D - 12.45 - 3.15)
w/b Monday 13 September - All children half days
(Group A & B - 12.45 - 3.15) (Group C & D - 9.00 - 11.30)
w/b Monday 20 September - All children am & lunch
(Group A, B, C & D - 9.00 - 12.45)
w/b Monday 27 September - All children full-time
(Group A, B, C & D - 8.55 - 3.30)