Science
Year 1 and Year 2
As we have been learning about plants, this week we are going to find out about an artist who uses natural materials.
Art can be created using nearly any medium; artists use paint, clay, charcoal, and ink to create their works. Artists like Andy Goldsworthy, though, use materials that are a little more unexpected. Andy Goldsworthy is a renowned British artist who works with found natural elements, and his work has been inspiring children and adults alike all around the world!
The Artist
Andy Goldsworthy was born in England July 1956 and grew up working on farms as a general laborer, which he has said is related to his current work as a sculptor.
He graduated from university with a Bachelor of Fine Arts in 1978.
Since then, he has been creating art all around the world, in England, Scotland, Japan, Australia, and the United States.
Goldsworthy currently lives in Scotland.

The Inspiration

Andy Goldsworthy is a naturalist, meaning that all of his art is derived from or related to nature.
Goldsworthy is inspired by all aspects of the natural world, including snowflakes, twigs, icicles, reeds, tree roots, and rocks.
He has said that his goal is to understand nature by becoming a part of it, and he considers his creations to be transient or ephemeral because they, like any other part of nature, are destined to change over time.
He has said that "movement, change, light, growth, and decay" are the lifeblood of nature, and his work is designed to reflect that as well as participate in it.

The Method

Goldsworthy almost always uses found materials to make art.
He tries to use exclusively natural elements, and has been known to make ice sculptures using his own saliva to keep the pieces together!
Because of the transient nature of his art, he always photographs a sculpture after it is complete. Because pieces will naturally change over time, this is the only way for him to record what he has made.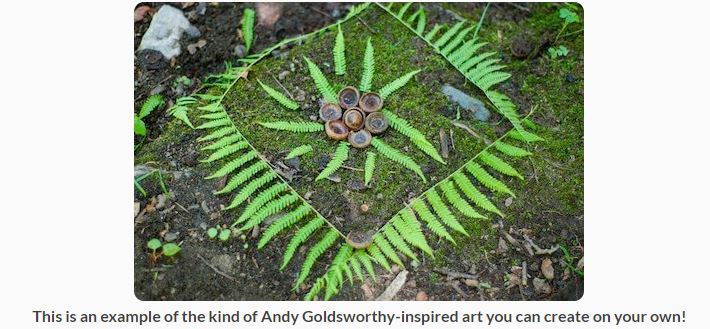 Can I Try?

You can take inspiration from Andy Goldsworthy's art to make your own!
Use found materials - your goal is not to interrupt nature's processes by picking plants and flowers, but to use what you can find on the ground, like branches, thorns, leaves, etc.
You can make any kind of art you want. Goldworthy typically make sculptures, but you can create natural collages on the grass, weave branches and fallen bark, or follow the artist's example and create a rock sculpture
Next time you're out for a walk, try picking up loose objects that look interesting to you. All you have to do to be inspired by nature is to look around!