Term 1 - All About Me!
Our topic this term is 'All about me'.
Our key text is 'Here we are' by Oliver Jeffers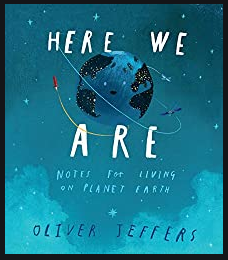 Click on this link to watch the story https://www.youtube.com/watch?v=kkcjKbbF9JA
2020 has been an unsettling year for us all. All children, parents and staff have been going through a whole range of emotions and some will be excited to start school, whilst others will be highly anxious. This is completely normal and we will do everything we can to support all of you during this uncertain time.
This is why we have chosen 'Here we are' by Oliver Jeffers as our focus for the first term. It is a lovely, thought-provoking story about life on Earth. It links really well with our re-engagement curriculum where the focus will be settling in and making friends in our new environment. We feel this is extremely important as many of them will be experiencing unsettling feelings and emotions that need to be shared and explored and also some will not have had contact with any other children for a long while.
We will also be finding out about our bodies, families and being healthy, as well as learning the new rules and routines of school.
Our theme in Collective Worship is 'Generosity'. Our British Value is 'Tolerance'.