Term 4 - February 2021
In Reception, we will be delivering three 20 minute (approximately) online learning sessions every day. These will be Phonics, Maths and a session linked to our topic/book of the week.
These will be at the following times...
10 am - Phonics
11:30 am - Maths
2 pm - Topic time
As you know, in Reception we learn through play! At school the children have 'choosing time' throughout the day where they are able to select their own learning linked to the EYFS curriculum. This can encompass a whole range of activities including playdough, painting, making puzzles, playing games, exploring the sand and water trays and so on. Each week our learning and classroom provision is themed. We will provide a rainbow home learning chart of activities which will enable your children to access all areas of the EYFS curriculum.
Please choose at least one activity each day and send us photos of your child's learning on Evidence Me. In Reception, the children receive regular verbal feedback. We will therefore endeavour to respond to uploaded Evidence Me observations as often as we can.
In addition to the home learning activities, please continue to read regularly with your child. All the children have access to our online platform Rising Stars, we will issue new books regularly. Don't forget the blending bookmarks and keyring words in their reading folders too.
There are websites/apps which we recommend to continue your child's phonics progress: - Teach your monster to read, Phonics Play and Phonics Bloom (focus on phase 2 games please).
Please keep using the resources in your child's maths and home learning folder too.
We suggest that you try to keep to a daily routine for your child, we have outlined one below.
With best wishes,
Becky & Kate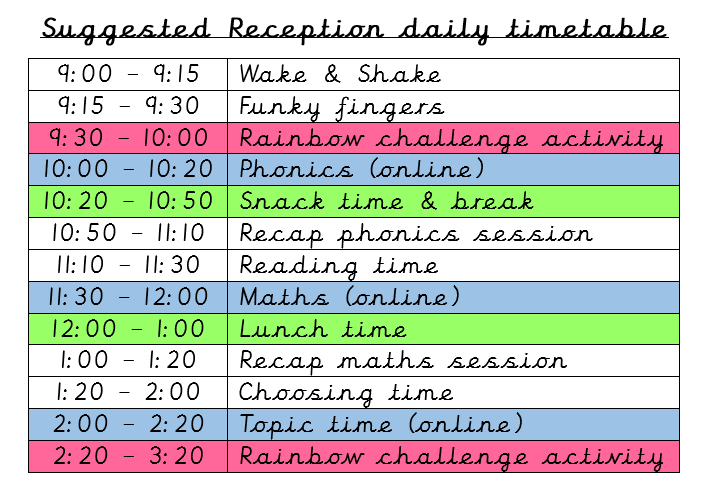 Wake & Shake suggestions - Cosmic Kids Yoga, Joe Wicks (Live PE Monday, Wednesday and Friday), Youtube Just Dance Kids, Youtube GoNoodle.
Funky Fingers at Home suggestions -