Week 2 - 1st - 5th March
This week we are learning about pets.
We are reading 'The Great Pet Sale' and 'Jacob O'Reily wants a Pet'.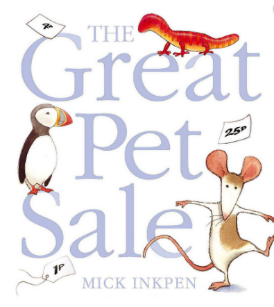 You may have these stories at home or you can watch a version of it here…
https://www.youtube.com/watch?v=1ISVfZAVD6o
https://www.youtube.com/watch?v=gwgsSKm2lHM
Here are some activity ideas linking to this week's theme.
Please choose at least one activity from the list below, or you could make up your own, to complete each day.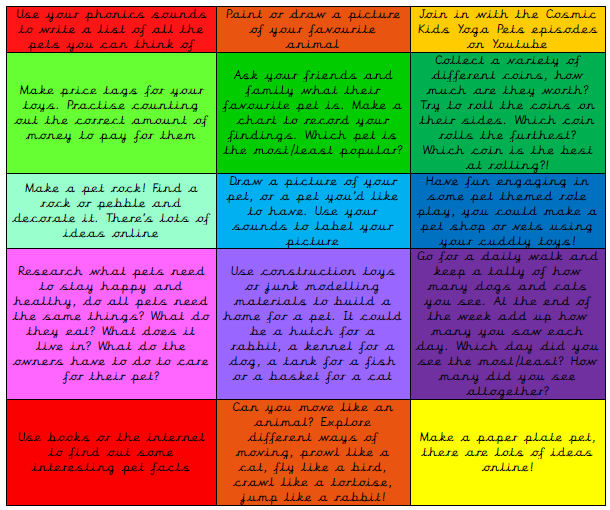 If you are able to, please record what your child makes, learns or discovers on Evidence Me, we would love to see!
This week it is also World Book Day on Thursday 4th March. The theme for this year's World Book Day is sharing stories.
Here are some home learning ideas based around books that you may like to try!

Lots of authors are doing live sessions online…
Puffin Books will be airing 20 minute story time sessions every weekday at 3.30pm on their YouTube, Instagram and Facebook channels, with separate sessions for ages 0-5, 6-11 and 7+, including readings and draw-alongs from brilliant authors and illustrators to help children connect with the stories.
Julia Donaldson will be performing stories, songs and poems every Thursday at 4pm on The Gruffalo Official Facebook page, joined by her husband and a host of illustrators she works with, including Axel Scheffler, Rebecca Cobb, Lydia Monks, David Roberts and Nick Sharratt
Stay At Home Storytime with Oliver Jeffers on Instagram @oliverjeffers – Oliver will be reading one of his stories every Monday, Wednesday and Friday at 7pm
Children's Laureate Cressida Cowell is reading How to Train Your Dragon in daily chapters on her YouTube channel along with writing tips and drawing
Piers Torday will be reading from The Last Wild and offering creative workshops for children every day from 2.30pm on Instagram
Tune in to Philip Ardagh's Books and Things, where he will be reading from his books as well as showing some of the odder items from around his home, on YouTube
Author/illustrator, James Mayhew will be doing a Storytime at 3pm to round off the school day on YouTube
Join Sarah Crossan's poetry workshops for older readers (11+) and adults, Monday to Friday at noon on Instagram
Publishers, authors and illustrators are happy for you to create and share your own readings of books online for children to access – please follow their guidelines
Check out the Facebook Page @AuthorEventsOnline organised by Caryl Hart with videos and livestreams created by picture book authors and illustrators for kids, teachers, parents and carers
Watch illustrator Richard Jones doing a special reading of his new picture book Perdu on YouTube
Enjoy the wonderful Sue Hendra doing a special reading of Barry the Fish with Fingers (featuring Betty the dog) on YouTube
Have a look at BBC Bitesize with three new lessons every weekday including videos, activities and more